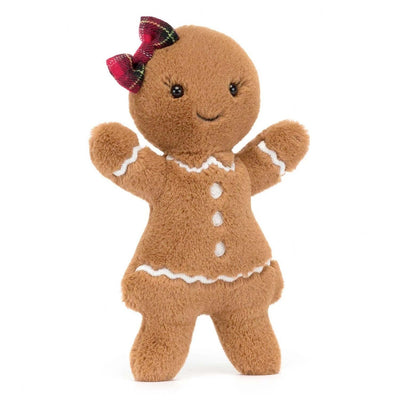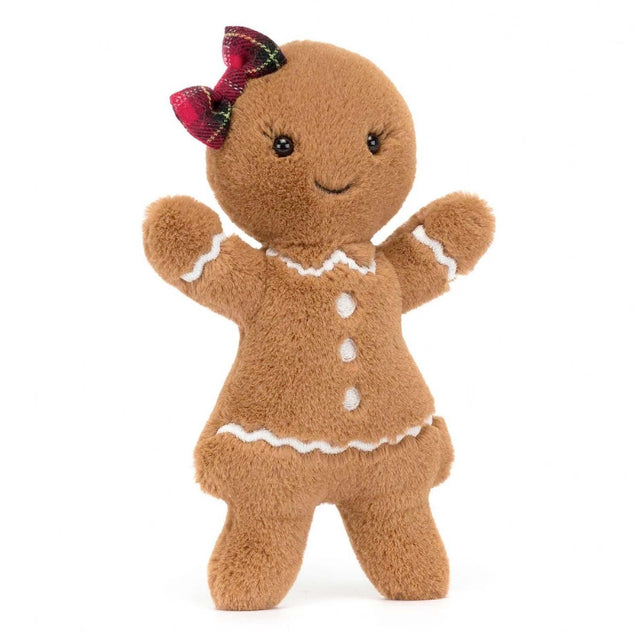 Ruby The Jolly Gingerbread Woman - 12" Tall
---
How to get your product
Ruby The Jolly Gingerbread Woman stuffed toy, measuring a delightful 12 inches in height, is the ideal holiday companion for children. Her smaller stature makes her especially suitable for younger kids, providing a perfect fit for little hands to hold and hug. Ruby's design, with its intricate gingerbread details and a radiant, friendly smile, instantly brings a touch of festive magic. The soft, plush material is cozy to the touch, perfect for snuggly moments on cold winter nights. Her appearance, complete with festive attire, not only captivates children's hearts but also ignites their holiday spirit.

Ruby's charming and whimsical design fosters imaginative play, an essential component of childhood development. Her jolly demeanor and cheerful outfit inspire stories and imaginative adventures, helping to develop creative thinking. Durable and well-crafted, Ruby is designed to endure the energetic play of excited children, making her a lasting holiday treasure. This adorable gingerbread woman is more than just a toy; she's a festive beacon of joy and warmth, ideal for bringing the enchantment and wonder of the holiday season into any child's life.
---
How to Get Your Product
Rose / Fruit Tree Delivery
Deliveries available in Orange County, California only. Please allow 8 business days for delivery. Deliveries made Monday - Saturday, excluding federal holidays.
*Returns: Please make your selections carefully. Each of your items are procured specific to your order. Once your order is submitted and fulfilled, no returns, exchanges, credits or cancellations are available.
Delivery / In-Store Pickup
Deliveries: Available in Orange County, California only. Please allow 2 business days from the time of order. Deliveries made Monday - Saturday, excluding federal holidays.
In-Store Pickup: Please allow 2 business days for In-Store Pickup. In-Store Pickup available Monday - Sunday, excluding federal holidays. Fees may apply.
* Refer to the product details section on each item for delivery and in store pick up windows on all seasonal products such as but not limited to tomatoes, floral arrangements and original designs.
* Delivery Surcharges May Apply Depending on the Size & Weight of the Item.
Shipping
We Currently Do Not Ship Any Plants or Living Items.
Please note: We require 2-3 business days for order processing, and an additional 2-3 days to ship from our location. Expected shipment times specify when an item is expected to leave our location, not when the item will arrive at its final shipping destination. After your order leaves our location, delivery times may vary according to the location of your shipping address. Remote locations that are not readily accessible may require additional time to make delivery. More Shipping Information
Example: If you order an In-Stock item on Monday that leaves our location in 2-3 business days, it will leave our location no later than Thursday. After your order leaves our location, delivery times vary due to the location of your shipping address. Please note that our shipping business days are Monday-Saturday, excluding federal holidays within the Continental United States.
Return Policy
Return any plant or item within 30 days, in the same condition as purchased and accompanied by a receipt to receive a full refund. No returns or exchanges on clearance or special-order items.
Roger's Plant Guarantee
All one gallon and larger landscape plants and all indoor foliage plants are unconditionally guaranteed for 3 years. All plants in our Original Designs share these same guarantees. Annuals and indoor flowering and holiday flowering plants are not guaranteed. Return the plant with the receipt for a in store credit of the original purchase price.