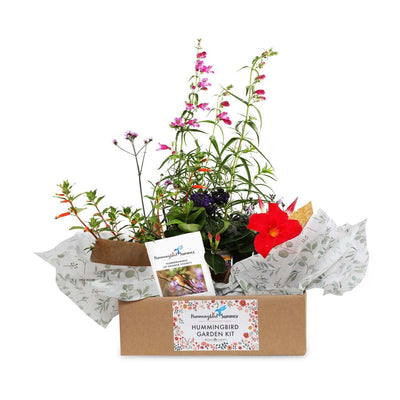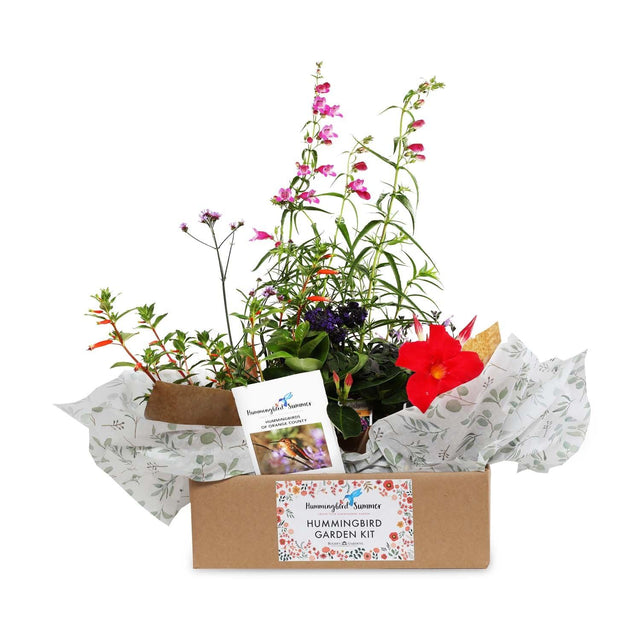 Hummingbird Gardening Kit
---
How to get your product
A Hummingbird Gardening Kit holds tremendous value for the entire family during the summer season. It offers a remarkable opportunity to immerse oneself in the wonders of nature and cultivate a deep connection with the delicate beauty of hummingbirds.

This kit not only provides a platform for shared experiences but also imparts essential knowledge about the captivating world of these magnificent creatures. With its hands-on approach, it allows families to engage in the joyous act of gardening together, fostering a sense of togetherness and teamwork.

By creating an inviting haven for hummingbirds, families can witness firsthand the enchanting sight of these tiny birds hovering amidst colorful flowers. The sheer delight and awe on the faces of children and adults alike are invaluable, creating cherished memories that will endure.

Moreover, the Hummingbird Gardening Kit instills a profound appreciation for the intricate balance of nature. It teaches the importance of pollinators and ecological harmony, empowering individuals to make a positive impact on the environment.

Through tending to the plants and ensuring their flourishing growth, families develop a sense of responsibility and empathy. This shared responsibility nurtures a deep-rooted love for the natural world and imparts valuable life lessons in patience and nurturing.

In essence, the Hummingbird Gardening Kit holds immense potential to transform the summer season for families. It invites them to embark on a remarkable journey of discovery, joy, and connection with nature, fostering a lifelong passion for gardening and environmental stewardship.
Dimensions: 13"W x 23"H x 10"D
---
How to Get Your Product
Rose / Fruit Tree Delivery
Deliveries available in Orange County, California only. Please allow 8 business days for delivery. Deliveries made Monday - Saturday, excluding federal holidays.
*Returns: Please make your selections carefully. Each of your items are procured specific to your order. Once your order is submitted and fulfilled, no returns, exchanges, credits or cancellations are available.
Delivery / In-Store Pickup
Deliveries: Available in Orange County, California only. Please allow 2 business days from the time of order. Deliveries made Monday - Saturday, excluding federal holidays.
In-Store Pickup: Please allow 2 business days for In-Store Pickup. In-Store Pickup available Monday - Sunday, excluding federal holidays. Fees may apply.
* Refer to the product details section on each item for delivery and in store pick up windows on all seasonal products such as but not limited to tomatoes, floral arrangements and original designs.
* Delivery Surcharges May Apply Depending on the Size & Weight of the Item.
Shipping
We Currently Do Not Ship Any Plants or Living Items.
Please note: We require 2-3 business days for order processing, and an additional 2-3 days to ship from our location. Expected shipment times specify when an item is expected to leave our location, not when the item will arrive at its final shipping destination. After your order leaves our location, delivery times may vary according to the location of your shipping address. Remote locations that are not readily accessible may require additional time to make delivery. More Shipping Information
Example: If you order an In-Stock item on Monday that leaves our location in 2-3 business days, it will leave our location no later than Thursday. After your order leaves our location, delivery times vary due to the location of your shipping address. Please note that our shipping business days are Monday-Saturday, excluding federal holidays within the Continental United States.
Return Policy
Return any plant or item within 30 days, in the same condition as purchased and accompanied by a receipt to receive a full refund. No returns or exchanges on clearance or special-order items.
Roger's Plant Guarantee
All one gallon and larger landscape plants and all indoor foliage plants are unconditionally guaranteed for 3 years. All plants in our Original Designs share these same guarantees. Annuals and indoor flowering and holiday flowering plants are not guaranteed. Return the plant with the receipt for a in store credit of the original purchase price.