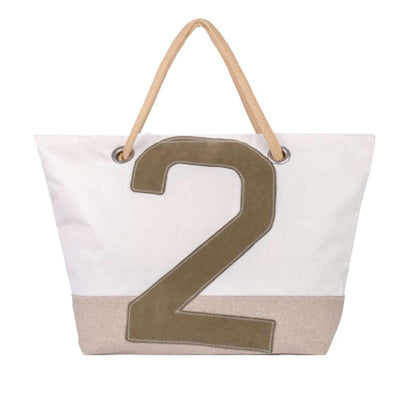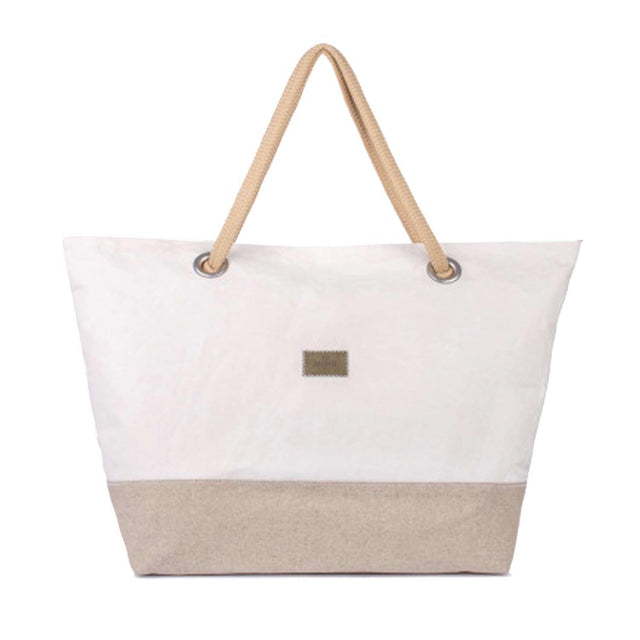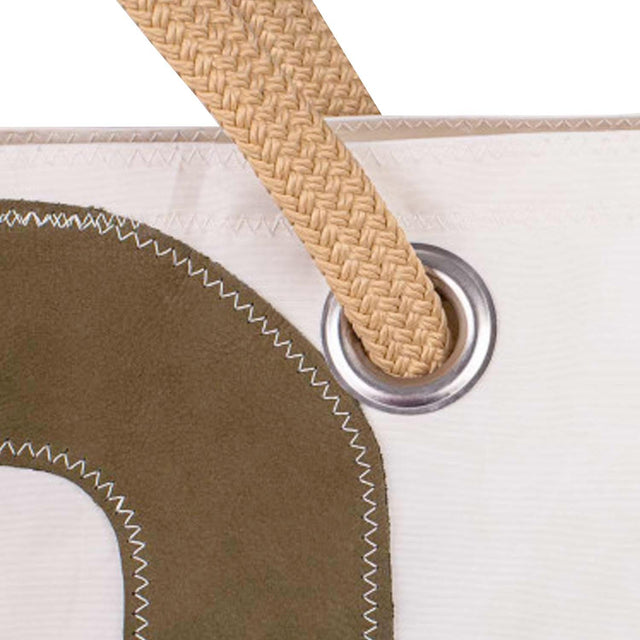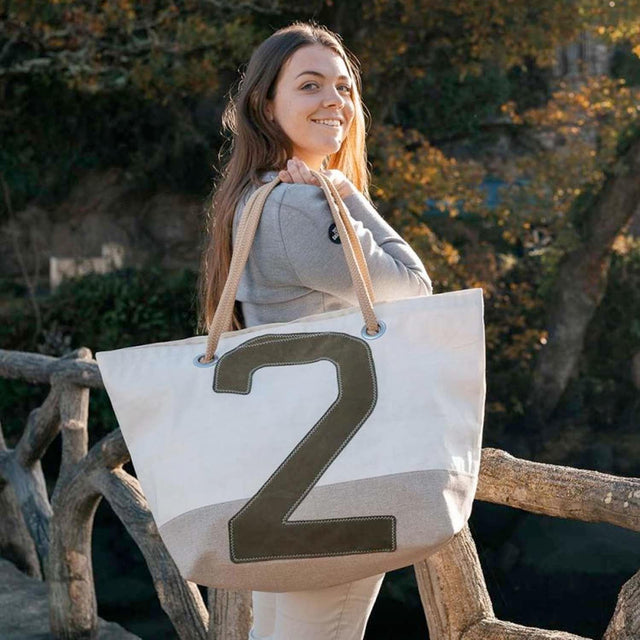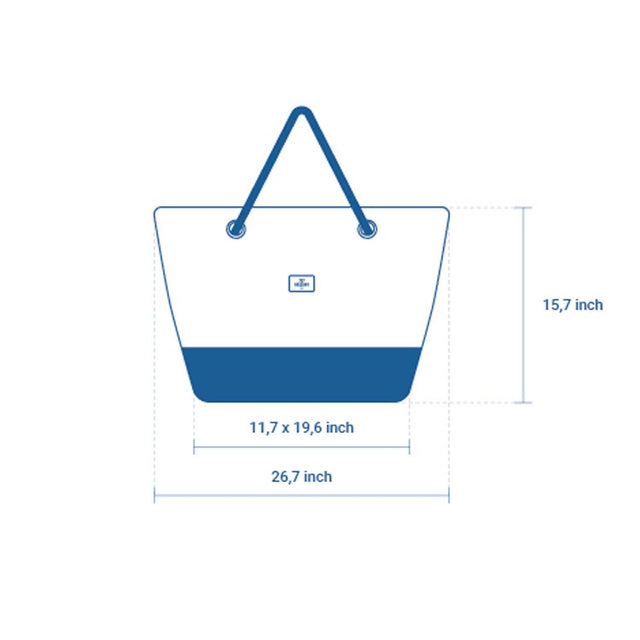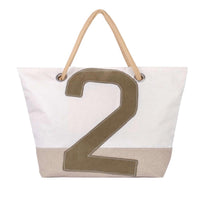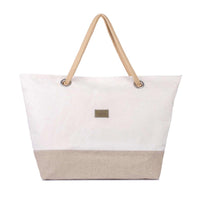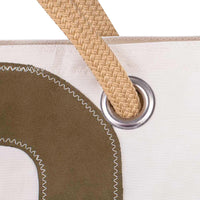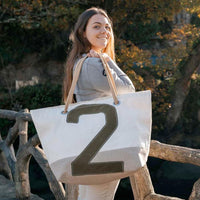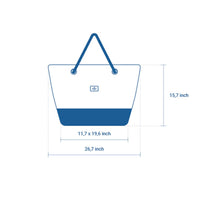 Travel Bag Carla - Linen & Leather from Recycled Sails - #2
---
How to get your product
Inspired by the Laïta estuary in Brittany, France, where the land meets the sea, our Into The Wild collection embraces the ever-changing colors of mother nature. Ready to step off the beaten path?

Made from 100% recycled sail, the Carla travelbag from the Into The Wild collection oozes authenticity and will seduce you with its perfect cut and high-quality confection.

The Carla is a stylish and large travel bag, perfect to pack all your belongings for your trips. Its size is cabin approved. It is made of a beige linen base, white recycled sailcloth and a large khaki leather "2", sewn with our iconic zigzag stitch.

An authentication card is sewn inside and certifies the origin of the sail.
---
Dacron Sail:

This product is made from a sail in dacron, that has cruised ! Dacron is a polyester fiber that is not very sensitive to ultraviolet rays and bad weather. Dacron sails are chosen for their resistance, to equip mainly dinghies and cruising boats.

In our workshop in Lorient, Brittany, we collect sails every day. Through these sails, singular stories of navigations. Each sail has its own story, and you can learn about it on the authentication sheet that you can find on most of our products. By giving a second life to the these sails, we commit for the preservation of the environment.
---
* In-Store Pickup Available - Fees May Apply
* Delivery in Orange County, CA Only: Available Monday - Saturday
* Shipping Typically Takes 4 - 6 Business Days After Order is Processed
Rose / Fruit Tree Delivery
Deliveries available in Orange County, California only. Please allow 8 business days for delivery. Deliveries made Monday - Saturday, excluding federal holidays.
*Returns: Please make your selections carefully. Each of your items are procured specific to your order. Once your order is submitted and fulfilled, no returns, exchanges, credits or cancellations are available.
Delivery / In-Store Pickup
Deliveries: Available in Orange County, California only. Please allow 2 business days from the time of order. Deliveries made Monday - Saturday, excluding federal holidays.
In-Store Pickup: Please allow 2 business days for In-Store Pickup. In-Store Pickup available Monday - Sunday, excluding federal holidays. Fees may apply.
* Refer to the product details section on each item for delivery and in store pick up windows on all seasonal products such as but not limited to tomatoes, floral arrangements and original designs.
* Delivery Surcharges May Apply Depending on the Size & Weight of the Item.
Shipping
We Currently Do Not Ship Any Plants or Living Items.
Please note: We require 2-3 business days for order processing, and an additional 2-3 days to ship from our location. Expected shipment times specify when an item is expected to leave our location, not when the item will arrive at its final shipping destination. After your order leaves our location, delivery times may vary according to the location of your shipping address. Remote locations that are not readily accessible may require additional time to make delivery. More Shipping Information
Example: If you order an In-Stock item on Monday that leaves our location in 2-3 business days, it will leave our location no later than Thursday. After your order leaves our location, delivery times vary due to the location of your shipping address. Please note that our shipping business days are Monday-Saturday, excluding federal holidays within the Continental United States.
Return Policy
Return any plant or item within 30 days, in the same condition as purchased and accompanied by a receipt to receive a full refund. No returns or exchanges on clearance or special-order items.
Roger's Plant Guarantee
All one gallon and larger landscape plants and all indoor foliage plants are unconditionally guaranteed for 3 years. All plants in our Original Designs share these same guarantees. Annuals and indoor flowering and holiday flowering plants are not guaranteed. Return the plant with the receipt for a in store credit of the original purchase price.