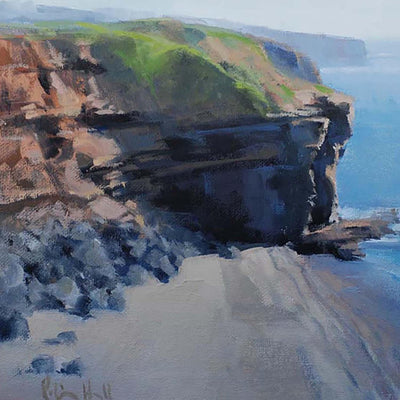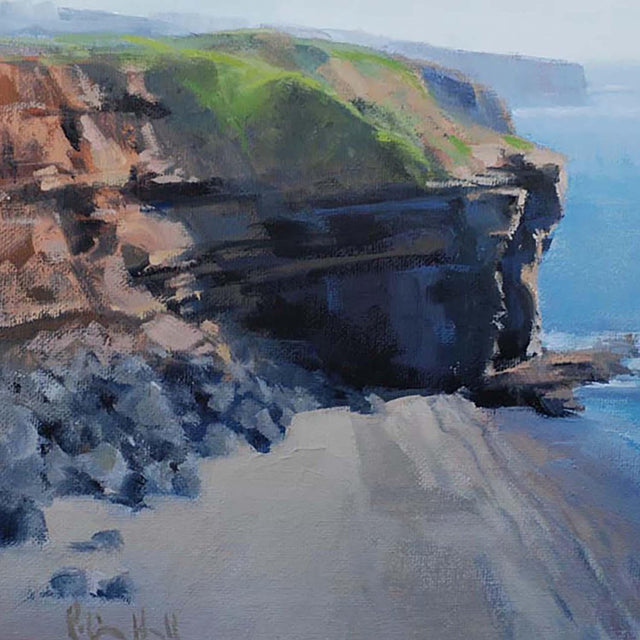 Rockfall Point - 8" x 8"
---
How to get your product
Robin Hall grew up in California. Her mother was an artist, whose easels of wet paintings filled her studio and the household kitchen. "Growing up and watching canvases evolve, gave me a sense of curiosity along with a no fear approach when I started to experiment with painting."

Hall's early work focused on the open fields of Orange County with a rush to capture the land, as it was quickly being developed. Today, Robin finds inspiration in how light, the important factor, can transform a place or object. "There is never a lack of inspiration as it is found everywhere; a back alley, a walk on the beach, fruit at the market, an old watering can- Artists just see things differently".

Robin's work has been featured in numerous museums and galleries throughout the U.S. Her art has been included in publications such as California Light, Painting California, Contemporary Paintings of San Diego, as well as many magazine feature articles and catalogs of exhibits. Robin is currently a signature member of the California Art Club. "I will forever consider myself a student of art, continually looking for new approaches and techniques, while continually working to keep my paintings fresh and notable".
---
* In-Store Pickup Available - Fees May Apply
* Delivery in Orange County, CA Only: Available Monday - Saturday
* Shipping Typically Takes 4 - 6 Business Days After Order is Processed
Rose / Fruit Tree Delivery
Deliveries available in Orange County, California only. Please allow 8 business days for delivery. Deliveries made Monday - Saturday, excluding federal holidays.
*Returns: Please make your selections carefully. Each of your items are procured specific to your order. Once your order is submitted and fulfilled, no returns, exchanges, credits or cancellations are available.
Delivery / In-Store Pickup
Deliveries: Available in Orange County, California only. Please allow 2 business days from the time of order. Deliveries made Monday - Saturday, excluding federal holidays.
In-Store Pickup: Please allow 2 business days for In-Store Pickup. In-Store Pickup available Monday - Sunday, excluding federal holidays. Fees may apply.
* Refer to the product details section on each item for delivery and in store pick up windows on all seasonal products such as but not limited to tomatoes, floral arrangements and original designs.
* Delivery Surcharges May Apply Depending on the Size & Weight of the Item.
Shipping
We Currently Do Not Ship Any Plants or Living Items.
Please note: We require 2-3 business days for order processing, and an additional 2-3 days to ship from our location. Expected shipment times specify when an item is expected to leave our location, not when the item will arrive at its final shipping destination. After your order leaves our location, delivery times may vary according to the location of your shipping address. Remote locations that are not readily accessible may require additional time to make delivery. More Shipping Information
Example: If you order an In-Stock item on Monday that leaves our location in 2-3 business days, it will leave our location no later than Thursday. After your order leaves our location, delivery times vary due to the location of your shipping address. Please note that our shipping business days are Monday-Saturday, excluding federal holidays within the Continental United States.
Return Policy
Return any plant or item within 30 days, in the same condition as purchased and accompanied by a receipt to receive a full refund. No returns or exchanges on clearance or special-order items.
Roger's Plant Guarantee
All one gallon and larger landscape plants and all indoor foliage plants are unconditionally guaranteed for 3 years. All plants in our Original Designs share these same guarantees. Annuals and indoor flowering and holiday flowering plants are not guaranteed. Return the plant with the receipt for a in store credit of the original purchase price.