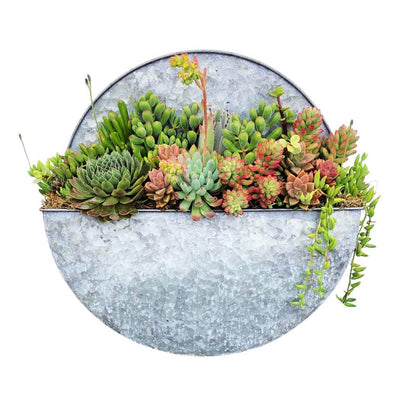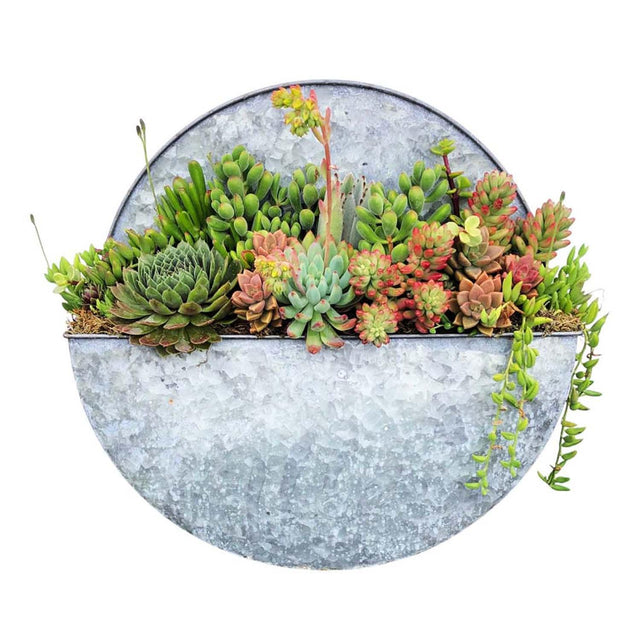 Succulents in Large Round Metal Wall Planter - 16"dia
---
How to get your product
Succulents in a round metal wall planter would be a perfect choice for outdoor decor during the summer months. The sleek and contemporary design of the metal planter would add a modern touch to any outdoor space, while the round shape adds a sense of harmony and balance. The vibrant hues and unique textures of the succulents would create a captivating display, capturing the essence of the summer season. Additionally, succulents are well-suited for the warm weather, as they thrive in sunlight and require minimal watering.

Their ability to withstand dry conditions makes them a low-maintenance and resilient choice for summer outdoor decor. The combination of the round metal planter and the lush succulents would create an eye-catching focal point that beautifully complements the natural surroundings, making it an ideal addition to any summer outdoor setting.
Dimensions: 16" Diameter
---
Each plant in this arrangement can be removed and planted elsewhere or replaced as needed. Our living arrangements are lined inside with waterproof florists' foil to keep tables and counters dry (although extra precaution is strongly advised). Plant selection based upon availability, but overall feel of the arrangement will remain the same.
---
How to Get Your Product
Rose / Fruit Tree Delivery
Deliveries available in Orange County, California only. Please allow 8 business days for delivery. Deliveries made Monday - Saturday, excluding federal holidays.
*Returns: Please make your selections carefully. Each of your items are procured specific to your order. Once your order is submitted and fulfilled, no returns, exchanges, credits or cancellations are available.
Delivery / In-Store Pickup
Deliveries: Available in Orange County, California only. Please allow 2 business days from the time of order. Deliveries made Monday - Saturday, excluding federal holidays.
In-Store Pickup: Please allow 2 business days for In-Store Pickup. In-Store Pickup available Monday - Sunday, excluding federal holidays. Fees may apply.
* Refer to the product details section on each item for delivery and in store pick up windows on all seasonal products such as but not limited to tomatoes, floral arrangements and original designs.
* Delivery Surcharges May Apply Depending on the Size & Weight of the Item.
Shipping
We Currently Do Not Ship Any Plants or Living Items.
Please note: We require 2-3 business days for order processing, and an additional 2-3 days to ship from our location. Expected shipment times specify when an item is expected to leave our location, not when the item will arrive at its final shipping destination. After your order leaves our location, delivery times may vary according to the location of your shipping address. Remote locations that are not readily accessible may require additional time to make delivery. More Shipping Information
Example: If you order an In-Stock item on Monday that leaves our location in 2-3 business days, it will leave our location no later than Thursday. After your order leaves our location, delivery times vary due to the location of your shipping address. Please note that our shipping business days are Monday-Saturday, excluding federal holidays within the Continental United States.
Return Policy
Return any plant or item within 30 days, in the same condition as purchased and accompanied by a receipt to receive a full refund. No returns or exchanges on clearance or special-order items.
Roger's Plant Guarantee
All one gallon and larger landscape plants and all indoor foliage plants are unconditionally guaranteed for 3 years. All plants in our Original Designs share these same guarantees. Annuals and indoor flowering and holiday flowering plants are not guaranteed. Return the plant with the receipt for a in store credit of the original purchase price.