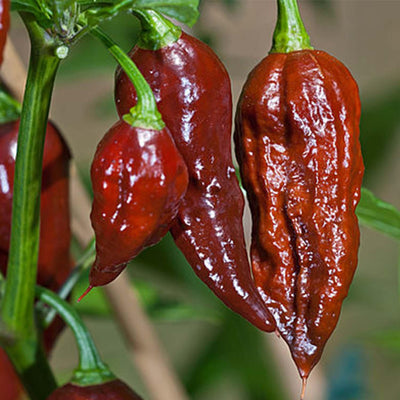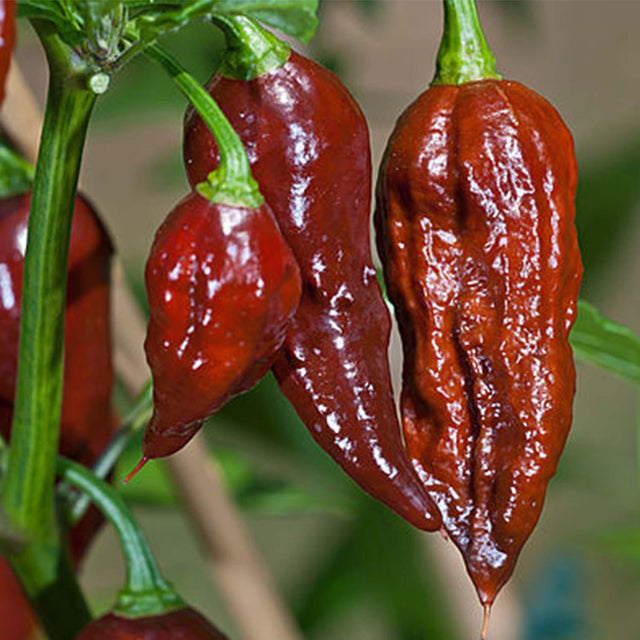 Bhut Jolokia (Ghost) Chocolate - 4" Pot
Peppers from India are renowned for their bold flavor, intense heat, and versatility in cooking. The cuisine of India is characterized by its diverse range of spices, including peppers, which are used to create complex flavor profiles in dishes. From the milder cumin and coriander to the fiery chili peppers, Indian peppers play a crucial role in the country's culinary heritage. The Indian green chili, for example, is a staple in many dishes and imparts a unique blend of heat and fresh flavor.

Indian cuisine also has a long history of using peppers for medicinal purposes, with many indigenous remedies featuring chili peppers as a key ingredient. The rich cultural heritage and diverse flavor profiles of Indian peppers make them truly special and sought after by food lovers and culinary enthusiasts.
PEPPER DETAILS
Pepper Origin: India
Spice Level: Super Hot
Scoville Heat Units: 30,000-50,000
Fruit Size: Medium
* For The 2023 Pepper Season,
Our Peppers Will Be Available for In-Store Purchase Only.
---
* Individual plants may vary in size from the variety description. Seedlings are in limited supply and variety availability may vary.
How to Get Your Product
Rose / Fruit Tree Delivery
Deliveries available in Orange County, California only. Please allow 8 business days for delivery. Deliveries made Monday - Saturday, excluding federal holidays.
*Returns: Please make your selections carefully. Each of your items are procured specific to your order. Once your order is submitted and fulfilled, no returns, exchanges, credits or cancellations are available.
Delivery / In-Store Pickup
Deliveries: Available in Orange County, California only. Please allow 2 business days from the time of order. Deliveries made Monday - Saturday, excluding federal holidays.
In-Store Pickup: Please allow 2 business days for In-Store Pickup. In-Store Pickup available Monday - Sunday, excluding federal holidays. Fees may apply.
* Refer to the product details section on each item for delivery and in store pick up windows on all seasonal products such as but not limited to tomatoes, floral arrangements and original designs.
* Delivery Surcharges May Apply Depending on the Size & Weight of the Item.
Shipping
We Currently Do Not Ship Any Plants or Living Items.
Please note: We require 2-3 business days for order processing, and an additional 2-3 days to ship from our location. Expected shipment times specify when an item is expected to leave our location, not when the item will arrive at its final shipping destination. After your order leaves our location, delivery times may vary according to the location of your shipping address. Remote locations that are not readily accessible may require additional time to make delivery. More Shipping Information
Example: If you order an In-Stock item on Monday that leaves our location in 2-3 business days, it will leave our location no later than Thursday. After your order leaves our location, delivery times vary due to the location of your shipping address. Please note that our shipping business days are Monday-Saturday, excluding federal holidays within the Continental United States.
Return Policy
Return any plant or item within 30 days, in the same condition as purchased and accompanied by a receipt to receive a full refund. No returns or exchanges on clearance or special-order items.
Roger's Plant Guarantee
All one gallon and larger landscape plants and all indoor foliage plants are unconditionally guaranteed for 3 years. All plants in our Original Designs share these same guarantees. Annuals and indoor flowering and holiday flowering plants are not guaranteed. Return the plant with the receipt for a in store credit of the original purchase price.