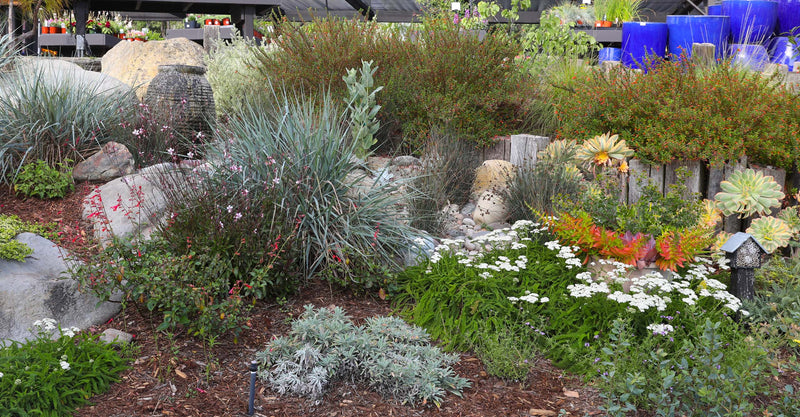 Roger's Gardens Presents:
Bird & Butterfly Garden
When outdoor plant shopping for a bird and butterfly garden, the primary consideration is how you will provide access to food, nesting, water, and cover. Pollinators require lots of nectar rich plants that are close together and planted in masses. This means your garden will be filled with different colorful blooming flowers throughout every season.

Birds vary in their food requirements. Some feed on insects, some on seeds, and others on berries and fruit or even nectar. Be sure to provide a variety of options. Butterflies have two diets: one for the larvae (caterpillars), and the other is plants for the adults to nectar on. Usually these plants, especially those used by the caterpillars, are very specific to the species of butterfly.

For nesting and breeding it all depends on the animal. Many insects will use an old log, a nest box, a nearby plant or even just bare dirt. Birds might need a wood cavity or a dense shrub or tree. Birds, butterflies and other pollinators and animals will enjoy a shallow water feature in the garden as well.

Running or dripping water will create a pleasant sound that attracts birds to the area, but even a shallow pool of water will provide an opportunity for these animals to stop for a bath or drink.
How-To Create a Bird & Butterfly Garden
1. Identify where and how much space you want to invest in your bird and butterfly garden and identify your main viewing areas.

2. Identify the plants you want for attracting and supporting these visitors. Ask one of our horticultural experts or use the list below.

3. Choose plants for the different seasons and animals. Include a variety of nectar and food sources, specifically various shaped flowers, berries, and even seeds.

4. Plant close together and in clusters to make it easier for your insect friends to gather pollen, and make sure there are shrubs or trees nearby for the birds.

5. If possible, include a trickling fountain or shallow bird bath.

6. Let the garden relax a bit, limiting the amount of pruning and clipping. Keeping some leaves under the plants will encourage certain soil insects, ground feeding birds and other animals.

7. Put the pesticides away. A bird and butterfly garden will almost always have enough diversity that pests will seldom be a problem. The insects and wildlife will keep them in balance.

8. Consider planting your veggie and herb garden close by so your edibles will benefit from all the additional pollinator activity in your garden.

9. Enjoy the beautiful display of color and movement that your garden has to offer.


Garden Recipe
A Bird and Butterfly Garden can incorporate a huge array of plant possibilities. Here are just a few of our favorites, many which we often use in our display garden.
Our Favorite Bird, Butterfly & Habitat
Plants for Southern California Gardens
| | | | | |
| --- | --- | --- | --- | --- |
|   | African Blue Basil (Ocimum hybrid) |   | Pollinators • Sun • Shrub |   |
|   | Aloes (Aloe) |   | Hummingbirds • Sun • Shrub |   |
|   | Autumn sage (Salvia gregii) |   | Hummingbirds-Pollinators • Sun • Perennial |   |
|   | Buckwheats (Eriogonum) |   | Birds- Butterflies-Pollinators • Sun • Shrub • Native |   |
|   | Butterfly Bush (Buddleja davidii) |   | Birds-Butterflies-Hummingbirds-Pollinators • Sun • Shrub |   |
|   | California Fuchsia (Epilobium canum) |   | Hummingbirds • Sun • Perennial • Native |   |
|   | Cassia (Cassia) |   | Butterflies-Pollinators • Sun • Shrub/Tree |   |
|   | Chitalpa (Chitalpa) |   | Butterflies-Pollinators • Sun • Shrub/Tree |   |
|   | Cleveland Sage (Salvia clevelandii) |   | Birds-Butterflies-Hummingbirds-Pollinators • Sun • Shrub • Native |   |
|   | Coral Fountain (Russelia equisetiformis) |   | Hummingbirds-Pollinators • Sun • Shrub |   |
|   | Currents & Gooseberries (Ribes) |   | Birds-Hummingbirds-Pollinators • Half Sun to Sun • Shrub • Native |   |
|   | Desert Willow (Chilopsis) |   | Birds-Hummingbirds • Sun • Shrub/Tree • Partial Native |   |
|   | Dwarf Trumpet Vine (Campsis radicans) |   | Hummingbirds • Sun • Shrub/vine |   |
|   | Firecracker Plant (Cuphea) |   | Hummingbirds-Pollinators • Sun • Perennial |   |
|   | Flowering maple (Abutilon) |   | Hummingbirds • Half sun to shade • Shrub |   |
|   | Grevillea (Grevillea) |   | Hummingbirds • • Sun • Shrub |   |
|   | Hummingbird Mint (Agastache) |   | Hummingbirds-Pollinators • Sun • Perennial |   |
|   | Hummingbird sage (Salvia spathacea) |   | Hummingbirds-Pollinators • Half sun • Native |   |
|   | Hummingbird Shrub (Hamelia patens) |   | Hummingbirds-Pollinators • Sun • Shrub |   |
|   | Jerusalum sage (Phlomis fruticosa) |   | Birds-Hummingbirds-Pollinators • Sun • Perennial/Shrub |   |
|   | Lantana (Lantana) |   | Butterflies-Hummingbirds-Pollinators • Sun • Perennial/shrub |   |
|   | Lion's tail (Leonotis leonurus) |   | Birds-Hummingbirds-Pollinators • Sun • Perennial/Shrub |   |
|   | Mexican Bird of Paradise (Caesalpinia) |   | Hummingbirds • Sun • Shrub |   |
|   | Monkeyflowers (Mimulus) |   | Hummingbirds-Pollinators • Sun • Perennial |   |
|   | Narrow-leaved Milkweed (Asclepias fascicularis) |   | Butterflies--Pollinators • Sun • Perennial • Native |   |
|   | Oak (Quercus) |   | Birds • Tree •Sun • Native |   |
|   | Ornamental Grasses (Various species) |   | Birds • Half sun to Sun • Perennial/Shrub • Some native |   |
|   | Passion Flower (Passiflora) |   | Butterflies • Half sun to Sun • Vine |   |
|   | Penstemon (Penstemon) |   | Hummingbirds-Pollinators • Sun • Perennial • Native |   |
|   | Santa Barbara & Seaside Daisy (Erigeron) |   | Butterflies--Pollinators • Sun • Perennial |   |
|   | Starcluster Pentas (Pentas lanceolata) |   | Butterflies-Hummingbirds-Pollinators • Sun • Perennial |   |
|   | Sunflowers (Helianthus) |   | Birds-Butterflies-Pollinators • Sun • Annual/Perennial • Some native |   |
|   | Toyon (Heteromeles arbutifolia) |   | Birds-Pollinators • Sun • Shrub/Tree • Native |   |
|   | Western Redbud (Cercis occidentalis) |   | Birds--Pollinators Sun • Shrub/Tree • Native |   |
|   | Yarrow (Achillea) |   | Birds-Butterflies-Pollinators • Sun • Perennial • Some native |   |
| | | | | |
| --- | --- | --- | --- | --- |
|   | African Blue Basil (Ocimum hybrid) |   | Pollinators • Sun • Shrub |   |
|   | Aloes (Aloe) |   | Hummingbirds • Sun • Shrub |   |
|   | Autumn sage (Salvia gregii) |   | Hummingbirds-Pollinators • Sun • Perennial |   |
|   | Buckwheats (Eriogonum) |   | Birds- Butterflies-Pollinators • Sun • Shrub • Native |   |
|   | Butterfly Bush (Buddleja davidii) |   | Birds-Butterflies-Hummingbirds-Pollinators • Sun • Shrub |   |
|   | California Fuchsia (Epilobium canum) |   | Hummingbirds • Sun • Perennial • Native |   |
|   | Cassia (Cassia) |   | Butterflies-Pollinators • Sun • Shrub/Tree |   |
|   | Chitalpa (Chitalpa) |   | Butterflies-Pollinators • Sun • Shrub/Tree |   |
|   | Cleveland Sage (Salvia clevelandii) |   | Birds-Butterflies-Hummingbirds-Pollinators • Sun • Shrub • Native |   |
|   | Coral Fountain (Russelia equisetiformis) |   | Hummingbirds-Pollinators • Sun • Shrub |   |
|   | Currents & Gooseberries (Ribes) |   | Birds-Hummingbirds-Pollinators • Half Sun to Sun • Shrub • Native |   |
|   | Desert Willow (Chilopsis) |   | Birds-Hummingbirds • Sun • Shrub/Tree • Partial Native |   |
|   | Dwarf Trumpet Vine (Campsis radicans) |   | Hummingbirds • Sun • Shrub/vine |   |
|   | Firecracker Plant (Cuphea) |   | Hummingbirds-Pollinators • Sun • Perennial |   |
|   | Flowering maple (Abutilon) |   | Hummingbirds • Half sun to shade • Shrub |   |
|   | Grevillea (Grevillea) |   | Hummingbirds • • Sun • Shrub |   |
|   | Hummingbird Mint (Agastache) |   | Hummingbirds-Pollinators • Sun • Perennial |   |
|   | Hummingbird sage (Salvia spathacea) |   | Hummingbirds-Pollinators • Half sun • Native |   |
|   | Hummingbird Shrub (Hamelia patens) |   | Hummingbirds-Pollinators • Sun • Shrub |   |
|   | Jerusalum sage (Phlomis fruticosa) |   | Birds-Hummingbirds-Pollinators • Sun • Perennial/Shrub |   |
|   | Lantana (Lantana) |   | Butterflies-Hummingbirds-Pollinators • Sun • Perennial/shrub |   |
|   | Lion's tail (Leonotis leonurus) |   | Birds-Hummingbirds-Pollinators • Sun • Perennial/Shrub |   |
|   | Mexican Bird of Paradise (Caesalpinia) |   | Hummingbirds • Sun • Shrub |   |
|   | Monkeyflowers (Mimulus) |   | Hummingbirds-Pollinators • Sun • Perennial |   |
|   | Narrow-leaved Milkweed (Asclepias fascicularis) |   | Butterflies--Pollinators • Sun • Perennial • Native |   |
|   | Oak (Quercus) |   | Birds • Tree •Sun • Native |   |
|   | Ornamental Grasses (Various species) |   | Birds • Half sun to Sun • Perennial/Shrub • Some native |   |
|   | Passion Flower (Passiflora) |   | Butterflies • Half sun to Sun • Vine |   |
|   | Penstemon (Penstemon) |   | Hummingbirds-Pollinators • Sun • Perennial • Native |   |
|   | Santa Barbara & Seaside Daisy (Erigeron) |   | Butterflies--Pollinators • Sun • Perennial |   |
|   | Starcluster Pentas (Pentas lanceolata) |   | Butterflies-Hummingbirds-Pollinators • Sun • Perennial |   |
|   | Sunflowers (Helianthus) |   | Birds-Butterflies-Pollinators • Sun • Annual/Perennial • Some native |   |
|   | Toyon (Heteromeles arbutifolia) |   | Birds-Pollinators • Sun • Shrub/Tree • Native |   |
|   | Western Redbud (Cercis occidentalis) |   | Birds--Pollinators Sun • Shrub/Tree • Native |   |
|   | Yarrow (Achillea) |   | Birds-Butterflies-Pollinators • Sun • Perennial • Some native |   |