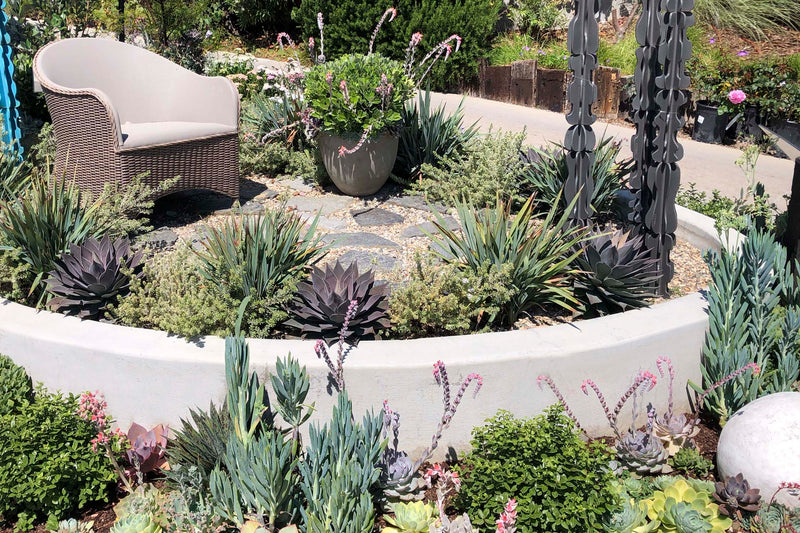 Roger's Gardens Presents:
Small Space Garden
Creating a great garden in a small space is almost the norm now. Small gardens have a lot more potential than many believe. Bringing the garden closer creates a more experiential environment. Textures, fragrances and details that cannot be seen in a larger space are far more meaningful in a small garden.

Whether dealing with a long narrow space, a cramped or a boxy backyard that lacks privacy or charm, the possibilities are endless. So don't write off your small space - with the right design and a few principals, it will be an incredible garden – your happy place.
1. Look for compact plants. Choose plants that won't overwhelm the space, but don't be afraid to include a few moderate sized or columnar plants, even a small overhanging tree, to achieve a sense of depth.

2. Think outside the box. Consider vertical gardens, railing planters, hanging baskets and wall gardens.

3. Build a strong foliage framework. Use interesting plants with colorful leaves, especially those with a layering or slightly see-through before adding in flowering plants.

4.Make every square inch count. Focus on high-value trees, shrubs, and perennials that offer multiple seasons of interest with foliage that is interesting up close, intricate flowers, fun textures, colorful or interesting bark or great fall color.

5. Choose plants with amazing foliage. Small gardens should pull you closer, unlike large gardens which want to make you stand back. Embrace this and add lots of fuzzy leaves, incredible foliage fragrances, weirdly shaped or artistic flower forms, and other characters that make you want to come closer.

6. Do you really need a lawn? Does your lawn visually break up your space unnecessarily? Does it make more sense to extend the patio?

7. Choose outdoor furniture with care. Forgo extra deep armchairs with wide armrests in favor of sleeker, lighter profiles.

8. Add a water feature. Water features are always a great addition to a garden. While a pond and waterfall may not be realistic, a simple recirculating wall fountain or bubbling tabletop pot may be the answer.

9. Create a sense of order. Clean lines bring an orderly feel to a small garden. A clear rectilinear design can define spaces, while flowing curves can be used to soften awkward angles.

10. Keep the color palette simple. Two or three complementary colors in varying shades, together with green, will be less visually cluttered than an explosion of contrasting colors.

11. Borrow views from outside your boundaries. If one is available, frame a distant tree, mountain, or unique architectural detail to give the illusion of greater depth.

12. Add outdoor lighting. Create drama and mystery, while extending the use of the garden into the evening hours. String lights and small space LED lights are ideal.
Garden Recipe
Choose plants with incredible textures, shapes and flower details, which would be missed in a larger garden. There are too many plants to list for a small-space garden.
A Few of Our Favorite
Small Space Garden Plants
1. Fuzzy leaves, like lambs ears, dusty miller, licorice plant, princess flower, and pepper.

2. Incredibly interesting leaf shapes and patterns, like Japanese maples, fatsia, many ferns, monstera and philodendron, tapioca plant, farfugium, horsetail and juncus.

3. Interesting foliage colors, like hybrid heucheras, coprosma, several different begonias, coleus, cannas and caladiums.

4. Intricate flower shapes, like abutilon, agapanthus, columbine, salvia, fuchsia, acalypha, euphorbias, daisies and camellias.

5. Textured plants, like lamb's ears, maidenhair fern, mother fern, coprosma, artemisia, sedum, gaura, iron cross begonia, and many different ornamental clumping grasses.

6. Vertical shrubs and vines for walls, like clematis, pink jasmine, stephanotis, grape ivy, mandevillea/dipladenia and Boston ivy.

7. Fragrant or aromatic plants, like rosemary, lavender, jasmine, small roses, mints, scented geraniums and sages.

8. Layered plants, like upright pittosporums, duranta, abutilon, free ferns and lophomyrtus.