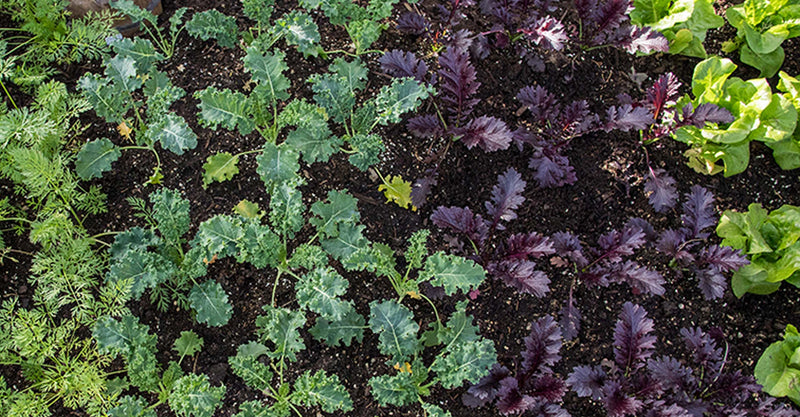 Roger's Gardens Presents:
Culinary Garden
The culinary garden is a harvesting garden. Sometimes these are called kitchen gardens, chefs gardens or even urban farms. A Culinary Garden is a great way to grow fresh, healthy and better-tasting ingredients to use in your kitchen, while saving money. Growing your own food can bring a tremendous sense of accomplishment and fulfillment.

In addition, knowing where your ingredients come from makes it easier to know they are organic and free from harmful pesticides. The design concept is simple and practical, sometimes straight rows and blocks, other times free flowing, nothing fancy. These gardens are for high yields and easy harvesting.
Step-By-Step
1. When selecting an area for your garden find an area that receives six or more hours of sun.

2. When planting, always use a good compost to improve the soil. Our favorites are Malibu Compost and earthworm castings.

3. For fertilizing use an organic fertilizer. Our staff favorite is the Organic All Purpose by Down to Earth. Top dress with this every six to eight weeks.

4. When initially preparing your area, loosen the soil to a depth of ten to twelve inches and mix it thoroughly with the compost, worm castings and fertilizer to a depth of about 8-12 inches.
Garden Recipe
Our Culinary Gardens, like any edible planting, is always changing. As the seasons change, so do the plants. Herbs and vegetables are being added constantly.

Certainly, the most important lesson for beginners is to follow the seasons. Vegetables and herbs have distinct timers of the year in which they are best grown. Following these seasons, both in your garden as well as at your plate will provide superior results and help to connect you and your family to the rhythms of the planet and the natural world.
Our Favorite Culinary Garden Plants &
Best Times to Plant in Southern California
Vegetables
| | | | | |
| --- | --- | --- | --- | --- |
|   | Artichoke |   | Jan-Dec |   |
|   | Beans (Pole or Bush) |   | Mar-Sep |   |
|   | Broccoli |   | Nov-Apr |   |
|   | Brussels Sprouts |   | Jan-Apr |   |
|   | Cabbage |   | Nov-Apr |   |
|   | Carrot |   | Nov-Apr |   |
|   | Cauliflower |   | Nov-Mar |   |
|   | Celery |   | Nov-Apr |   |
|   | Collards |   | Dec-Apr |   |
|   | Corn |   | Apr-Aug |   |
|   | Cucumber |   | Mar-Aug |   |
|   | Eggplant |   | Mar-Aug |   |
|   | Fava Beans |   | Sep-Mar |   |
|   | Garlic (sets) |   | Oct-Feb |   |
|   | Hops (Rhizomes) |   | Mar-July |   |
|   | Kale |   | Nov-Apr |   |
|   | Kohlrabi |   | Nov-Apr |   |
|   | Leeks |   | Nov-Apr |   |
|   | Lettuce |   | Oct-Apr |   |
|   | Mustard |   | Nov-Apr |   |
|   | Onion (Sets) |   | Nov-Apr |   |
|   | Onion (Seed) |   | Oct-Feb |   |
|   | Parsnip |   | Nov-Apr |   |
|   | Peas |   | Nov-Mar |   |
|   | Pepper |   | Apr-Aug |   |
|   | Potato Tubers |   | Nov-Feb |   |
|   | Radish |   | Oct-Apr |   |
|   | Rhubarb Root |   | Dec-Mar |   |
|   | Shallot |   | Nov-Apr |   |
|   | Spinach |   | Nov-Mar |   |
|   | Squash |   | Mar-Sep |   |
|   | Strawberry (Bare Root) |   | Nov-Mar |   |
|   | Strawberry (Starts) |   | Year-round |   |
|   | Sunflowers |   | Mar-Aug |   |
|   | Swiss Chard |   | Jan-Dec |   |
|   | Tomato |   | Mar-Sep |   |
|   | Turnip |   | Oct-Apr | |
| | | | | |
| --- | --- | --- | --- | --- |
|   | Anise |   | Nov-Mar |   |
|   | Basil |   | Mar-Sep |   |
|   | Borage |   | Nov-Mar |   |
|   | Chervil |   | Nov-Mar |   |
|   | Chives |   | Nov-Mar |   |
|   | Cilantro / Coriander |   | Nov-Mar |   |
|   | Dill |   | Nov-Mar |   |
|   | Fennel |   | Nov-Mar |   |
|   | Lavender |   | Year round |   |
|   | Lemon Balm |   | Year round |   |
|   | Lovage |   | Nov-Mar |   |
|   | Marjoram |   | Year round |   |
|   | Mint |   | Year round |   |
|   | Oregano |   | Year round |   |
|   | Parsley |   | Oct-May |   |
|   | Rosemary |   | Year round |   |
|   | Sage |   | Year round |   |
|   | Sorrel |   | Nov-Mar |   |
|   | Stevia |   | Mar-Sep |   |
|   | Summer savory |   | Year round |   |
|   | Sweet cicely |   | Nov-Mar |   |
|   | Tarragon, French |   | Mar-Sep |   |
|   | Thyme |   | Year round |   |
Herbs
| | | | | |
| --- | --- | --- | --- | --- |
|   | Anise |   | Nov-Mar |   |
|   | Basil |   | Mar-Sep |   |
|   | Borage |   | Nov-Mar |   |
|   | Chervil |   | Nov-Mar |   |
|   | Chives |   | Nov-Mar |   |
|   | Cilantro / Coriander |   | Nov-Mar |   |
|   | Dill |   | Nov-Mar |   |
|   | Fennel |   | Nov-Mar |   |
|   | Lavender |   | Year round |   |
|   | Lemon Balm |   | Year round |   |
|   | Lovage |   | Nov-Mar |   |
|   | Marjoram |   | Year round |   |
|   | Mint |   | Year round |   |
|   | Oregano |   | Year round |   |
|   | Parsley |   | Oct-May |   |
|   | Rosemary |   | Year round |   |
|   | Sage |   | Year round |   |
|   | Sorrel |   | Nov-Mar |   |
|   | Stevia |   | Mar-Sep |   |
|   | Summer savory |   | Year round |   |
|   | Sweet cicely |   | Nov-Mar |   |
|   | Tarragon, French |   | Mar-Sep |   |
|   | Thyme |   | Year round |   |
| | | | | |
| --- | --- | --- | --- | --- |
|   | Anise |   | Nov-Mar |   |
|   | Basil |   | Mar-Sep |   |
|   | Borage |   | Nov-Mar |   |
|   | Chervil |   | Nov-Mar |   |
|   | Chives |   | Nov-Mar |   |
|   | Cilantro / Coriander |   | Nov-Mar |   |
|   | Dill |   | Nov-Mar |   |
|   | Fennel |   | Nov-Mar |   |
|   | Lavender |   | Year round |   |
|   | Lemon Balm |   | Year round |   |
|   | Lovage |   | Nov-Mar |   |
|   | Marjoram |   | Year round |   |
|   | Mint |   | Year round |   |
|   | Oregano |   | Year round |   |
|   | Parsley |   | Oct-May |   |
|   | Rosemary |   | Year round |   |
|   | Sage |   | Year round |   |
|   | Sorrel |   | Nov-Mar |   |
|   | Stevia |   | Mar-Sep |   |
|   | Summer savory |   | Year round |   |
|   | Sweet cicely |   | Nov-Mar |   |
|   | Tarragon, French |   | Mar-Sep |   |
|   | Thyme |   | Year round |   |