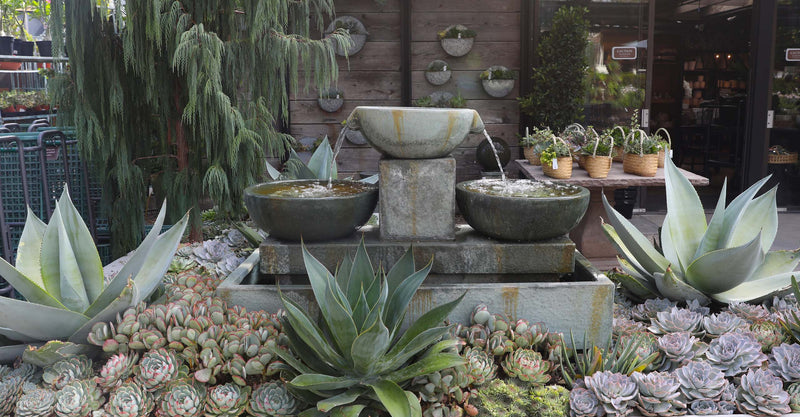 Roger's Gardens Presents:
Contemporary Succulent Water-Wise Garden
Designing and installing a modern succulent garden is one of the most creative, engaging and rewarding activities, especially for creative personalities. The huge array of forms, patterns, textures, and colors available within succulents is as close to "art" as anything can be in a garden. Here are some tips to get your creative, artistic juices flowing.
Repeat, Repeat, Repeat
Variety is good, but don't overdo it. Repetition of a plant or element will help the finished design be visually soothing and not a frantic collection of disarray.
Use Texture
Texture is the mostly expressed in the surface of the plant. Fuzzy surfaces will attract attention up close, while spiky shapes might be better at a distance. Fine details on the surface of foliage are best placed nearby and perhaps adjacent to smooth or chalky surfaces. Have fun but keep texture in mind.
Add Some Topography
Mounds, valleys, and undulations in a succulent design are often very effective. Slight elevation changes can also help some of your finicky succulent plants avoid wet feet and possible rotting.
Group the plants by their Water Needs
Not just in succulent or contemporary gardens, but in any landscape, water conservation is only achieved if the plants with similar water needs are together in the same irrigation area. Placing a thirsty plant under a low water tree negates the water saving potential of the tree. The same is true for succulents. Some require more frequent irrigations than others, so group those together.
Grow in Pot Too
Placing planted pots of succulents within the gardens is a great way to add elevation and variety to the view. When doing this think in terms of scale and quantity. Small pots often look lost floating in a larger garden; be sure the embedded pots are substantial. Also, think in threes or fives. A single pot will look lost and two will look stiff. Lastly, vary the pot sizes or even tip one on its side for a bit more relaxation in the composition.
Add Water – or the Illusion of Water
The sound of splashing water obscures outside noise and calms the environment. It also attracts birds and wildlife. In a summer dry climate like ours it's effective to suggest the presence of water, without really adding water. To create the look of flowing water a dry creek bed can be added with cobbles and rocks of various sizes. Use Complimentary Colors Grey tones with grey tones, bronzes with bronzes, greens with greens and so on will make a strong design that is pleasant and soothing to view. Use these complimentary colors in blocks and bands. Make drifts among the other colors in the design and you are on your way to being a succulent artist!
Don't Forget about the Walls
If walls are in the view of your garden, but sure to pull them in. Because of the tolerance to low water and small root space, succulents are easy to grow in wall mounted containers, over railings and in hanging pots. This will add a third dimension to your garden and give it an illusion of size.
Garden Recipe
Succulents come in every imaginable size, shape, habit, leaf color and texture. The best way to select your succulents for a new or remolded garden might be to just visit a great succulent garden and get inspired.

Just up the road, less than a mile away, is Sherman Library and Gardens, with one of the most inspirational displays you will ever see. Further away, but worth the drive is the Huntington Library and Gardens in San Marino, a suburb in the San Gabriel Valley.
Some of Our Favorite Contemporary
Succulent Water-Wise Garden Plants
| | | | | |
| --- | --- | --- | --- | --- |
|   | Adenium |   | Sun to partial • Upright • 1-3'H x 1-2'W |   |
|   | Aeonium |   | Sun • Small to medium clumping or upright • 1-5'H x 1-3'W |   |
|   | Agave |   | Sun • Medium to large clumping • 2-6'H x 2-6'W |   |
|   | Alluaudia |   | Sun • Upright arching • 5-12'H x 3-6'W |   |
|   | Aloe |   | Sun • Small to large clumping • 1-10'H x 1-8'W |   |
|   | Bulbine |   | Sun • Clumping • 1-3'H x 1-3'W |   |
|   | Cacti |   | Sun • Habit varies • Size varies |   |
|   | Carpet of Stars |   | Sun • Spreading • 2"H x 2'W |   |
|   | Cotyledon |   | Sun • Spreading to clumping • 1-2'H x 1-3'W |   |
|   | Crassula |   | Sun • Small to medium clumping, spreading or upright • 2"-4'H x 1-4'W |   |
|   | Dasylirion |   | Sun • Clumping mound • 3-6'H x 3-7'W |   |
|   | Dracaena |   | Sun • Medium clumping to tree-like • 4+12'H x 2-10'W |   |
|   | Dudleya |   | Sun • Small to medium clumping • 1'H x 1'W • Native |   |
|   | Echeveria |   | Sun • Small to medium clumping or spreading • 6"-2'H x 6"-2'W |   |
|   | Euphorbia |   | Sun • Habit varies • Size varies |   |
|   | Furcraea |   | Sun • Medium to large clumping • 3-4'H x 3-4'W |   |
|   | Graptopetalum |   | Sun • Clumping to spreading to groundcover • 5"-1'H x 1-2'W |   |
|   | Hesperaloe |   | Sun • Clumping • 2-3'H x 2-4'W |   |
|   | Iceplants |   | Sun • Spreading • 3-10"H x 2'W |   |
|   | Kalanchoe |   | Sun • Clumping to spreading • 1-5'H x 1-5'W |   |
|   | Mangave |   | Sun-partial sun • Small to medium clumping • 1-2'H x 2-4'W |   |
|   | Pachypodium |   | Sun to partial • Upright • 1-5'H x 1-3'W |   |
|   | Portulaca |   | Sun • Spreading to bushy upright • 6"-4'H x 2-4'W |   |
|   | Sanseveria |   | Sun • Spreading to upright • 1-4'H x 1-4'W |   |
|   | Sedum |   | Sun-partial sun •Small spreading to bushy • 2"-3'H x 2'-4'W |   |
|   | Senecio |   | Sun • Spreading to groundcover to bushy upright • 3"-5'H x 1-5'W |   |
|   | Yucca |   | Sun • Clumping to upright • 3-10'H x 2-8'W • Partly native |   |
| | | | | |
| --- | --- | --- | --- | --- |
|   | Adenium |   | Sun to partial • Upright • 1-3'H x 1-2'W |   |
|   | Aeonium |   | Sun • Small to medium clumping or upright • 1-5'H x 1-3'W |   |
|   | Agave |   | Sun • Medium to large clumping • 2-6'H x 2-6'W |   |
|   | Alluaudia |   | Sun • Upright arching • 5-12'H x 3-6'W |   |
|   | Aloe |   | Sun • Small to large clumping • 1-10'H x 1-8'W |   |
|   | Bulbine |   | Sun • Clumping • 1-3'H x 1-3'W |   |
|   | Cacti |   | Sun • Habit varies • Size varies |   |
|   | Carpet of Stars |   | Sun • Spreading • 2"H x 2'W |   |
|   | Cotyledon |   | Sun • Spreading to clumping • 1-2'H x 1-3'W |   |
|   | Crassula |   | Sun • Small to medium clumping, spreading or upright • 2"-4'H x 1-4'W |   |
|   | Dasylirion |   | Sun • Clumping mound • 3-6'H x 3-7'W |   |
|   | Dracaena |   | Sun • Medium clumping to tree-like • 4+12'H x 2-10'W |   |
|   | Dudleya |   | Sun • Small to medium clumping • 1'H x 1'W • Native |   |
|   | Echeveria |   | Sun • Small to medium clumping or spreading • 6"-2'H x 6"-2'W |   |
|   | Euphorbia |   | Sun • Habit varies • Size varies |   |
|   | Furcraea |   | Sun • Medium to large clumping • 3-4'H x 3-4'W |   |
|   | Graptopetalum |   | Sun • Clumping to spreading to groundcover • 5"-1'H x 1-2'W |   |
|   | Hesperaloe |   | Sun • Clumping • 2-3'H x 2-4'W |   |
|   | Iceplants |   | Sun • Spreading • 3-10"H x 2'W |   |
|   | Kalanchoe |   | Sun • Clumping to spreading • 1-5'H x 1-5'W |   |
|   | Mangave |   | Sun-partial sun • Small to medium clumping • 1-2'H x 2-4'W |   |
|   | Pachypodium |   | Sun to partial • Upright • 1-5'H x 1-3'W |   |
|   | Portulaca |   | Sun • Spreading to bushy upright • 6"-4'H x 2-4'W |   |
|   | Sanseveria |   | Sun • Spreading to upright • 1-4'H x 1-4'W |   |
|   | Sedum |   | Sun-partial sun •Small spreading to bushy • 2"-3'H x 2'-4'W |   |
|   | Senecio |   | Sun • Spreading to groundcover to bushy upright • 3"-5'H x 1-5'W |   |
|   | Yucca |   | Sun • Clumping to upright • 3-10'H x 2-8'W • Partly native |   |