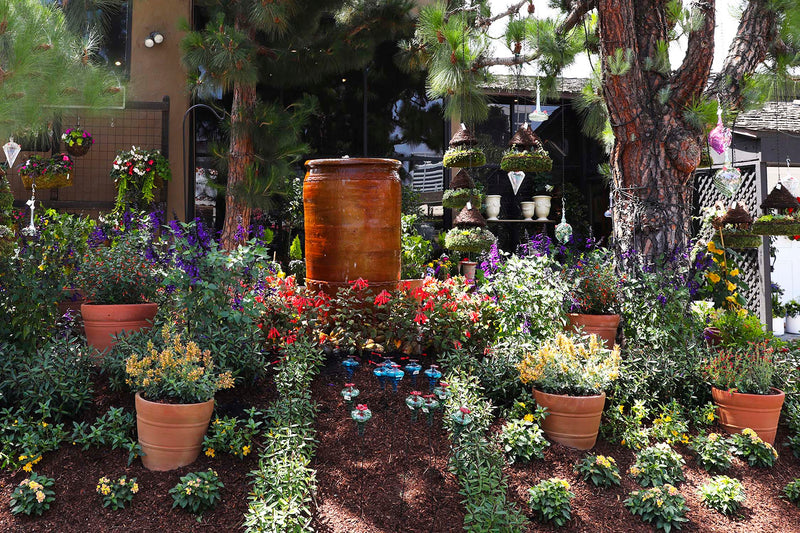 Roger's Gardens Presents:
Hummingbird Garden
We designed this garden using the plants hummingbirds and gardeners love. Hummingbirds' brilliant colors, behavior and activity when encountering flowers make it fascinating to watch and a great subject to photograph.

A Hummingbird Garden Design is all about the flowers. A good hummingbird design will include a wide variety of plants, so something is always in bloom. The hummingbirds like protective cover, and a mixture of trees and shrubs helps. A mix of plants heights is also very helpful. The hummingbirds will find a safe place with a good view to rest. And some tinkling water helps attract hummingbirds and other birds too.

You can attract hummingbirds to your garden using plants with tubular, colorful flowers, especially red, orange or yellow.
Garden Recipe
A variety of plants is best, some high, some low and carefully planned so that something is always in bloom.

Here are some plants that are in our Hummingbird Garden or are highly recommended for the Orange County area.
Our Favorite Hummingbird Plants
for Southern California Gardens
| | | | | |
| --- | --- | --- | --- | --- |
|   | Alstroemeria (Alstroemeria) |   | Half sun • Perennial • Spring to Fall • 3-4'H x 3-5'W |   |
|   | Autumn sage (Salvia gregii) |   | Sun • Perennial • Spring to Fall • 2-3'H x 2-3'W |   |
|   | Bottlebrush (Callistemon) |   | Sun • Shrub/Tree • Spring to Summer • 3-4'H x 3-5'W |   |
|   | California Fuchsia (Epilobium canum) |   | Sun • Perennial • Summer to Fall • 3-4'H x 3-5'W • Native |   |
|   | Cleveland Sage (Salvia clevelandii) |   | Sun • Shrub • Spring to Fall • 3-5'H x 3-5'W • Native |   |
|   | Coral Fountain (Rusellia equisetiformis) |   | Half sun to sun • Shrub • Almost year-round • 2-3'H x 3-5'W |   |
|   | Desert Willow (Chilopsis) |   | Sun • Shrub/Tree • Spring to Summer • 3-4'H x 3-5'W |   |
|   | Dwarf Butterfly Bush (Buddleja davidii) |   | Sun • Shrub • Spring to Fall • 3-5'H x 3-5'W |   |
|   | Dwarf Lantana (Lantana) |   | Sun • Perennial to shrub • Almost year-round • 2-4'H x 2-6'W |   |
|   | Dwarf Trumpet Vine (Campsis radicans) |   | Sun • Shrub to vine • Spring to Fall • 3-4'H x 3-5'W |   |
|   | Firecracker Plant (Cuphea) |   | Sun • Perennial • Almost year-round • 1-3'H x 2-3'W |   |
|   | Flowering maple (Abutilon) |   | Half sun to shade • Shrub • Almost year-round • 3-6'H x 3-6'W |   |
|   | Fuchsia (esp. 'Gartenmeister') |   | Half sun • Perennial • Spring to Fall • 3-4'H x 3-5'W |   |
|   | Honeysuckle (Lonicera) |   | Half sun to sun • Groundcover/Vine • Almost year-round • 2-3'H x 3-5'W |   |
|   | Hummingbird Mint (Agastache) |   | Sun • Perennial • Spring to Fall • 2-4'H x 2-3'W |   |
|   | Hummingbird sage (Salvia spathacea) |   | Half sun • Groundcover to perennial • Spring • 3-4'H x 3-5'W • Native |   |
|   | Hummingbird Shrub (Hamelia patens) |   | Sun • Shrub • Spring to Fall • 3-6'H x 4-6'W |   |
|   | Jerusalem sage (Phlomis fruticosa) |   | Sun • Perennial/Shrub • Spring to Fall • 3-4'H x 3-5'W |   |
|   | Lion's tail (Leonotis leonurus) |   | Sun • Perennial/Shrub • Spring to Fall • 3-4'H x 3-5'W |   |
|   | Mexican Bird of Paradise (Caesalpinia) |   | Sun • Shrub • Sumer to Fall • 4-5'H x 4-5'W |   |
|   | Monkeyflowers (Mimulus) |   | Sun • Perennial • Winter to Spring • 3-4'H x 3-5'W • Native Penstemon |   |
|   | Red Monardella (Monardella macrantha) |   | Half sun to sun • Perennial • Spring to Summer • 3-4'H x 3-5'W • Native |   |
|   | Shrimp Plant (Justicia) |   | Half sun • Perennial • Spring to Fall • 3-4'H x 3-5'W |   |
|   | Snapdragon (Antirrhinum) |   | Sun • Annual • Winter to Spring • 3-4'H x 3-5'W |   |
|   | Starcluster Pentas (Pentas lanceolata) |   | Sun • Perennial • Almost year-round • 2-4'H x 2-3'W |   |
|   | Western Redbud (Cercis occidentalis) |   | Sun • Shrub/Tree • Spring • 6-12'H x 6-12'W • Native |   |
|   |   |   |   |   |
| | | | | |
| --- | --- | --- | --- | --- |
|   | Alstroemeria (Alstroemeria) |   | Half sun • Perennial • Spring to Fall • 3-4'H x 3-5'W |   |
|   | Autumn sage (Salvia gregii) |   | Sun • Perennial • Spring to Fall • 2-3'H x 2-3'W |   |
|   | Bottlebrush (Callistemon) |   | Sun • Shrub/Tree • Spring to Summer • 3-4'H x 3-5'W |   |
|   | California Fuchsia (Epilobium canum) |   | Sun • Perennial • Summer to Fall • 3-4'H x 3-5'W • Native |   |
|   | Cleveland Sage (Salvia clevelandii) |   | Sun • Shrub • Spring to Fall • 3-5'H x 3-5'W • Native |   |
|   | Coral Fountain (Rusellia equisetiformis) |   | Half sun to sun • Shrub • Almost year-round • 2-3'H x 3-5'W |   |
|   | Desert Willow (Chilopsis) |   | Sun • Shrub/Tree • Spring to Summer • 3-4'H x 3-5'W |   |
|   | Dwarf Butterfly Bush (Buddleja davidii) |   | Sun • Shrub • Spring to Fall • 3-5'H x 3-5'W |   |
|   | Dwarf Lantana (Lantana) |   | Sun • Perennial to shrub • Almost year-round • 2-4'H x 2-6'W |   |
|   | Dwarf Trumpet Vine (Campsis radicans) |   | Sun • Shrub to vine • Spring to Fall • 3-4'H x 3-5'W |   |
|   | Firecracker Plant (Cuphea) |   | Sun • Perennial • Almost year-round • 1-3'H x 2-3'W |   |
|   | Flowering maple (Abutilon) |   | Half sun to shade • Shrub • Almost year-round • 3-6'H x 3-6'W |   |
|   | Fuchsia (esp. 'Gartenmeister') |   | Half sun • Perennial • Spring to Fall • 3-4'H x 3-5'W |   |
|   | Honeysuckle (Lonicera) |   | Half sun to sun • Groundcover/Vine • Almost year-round • 2-3'H x 3-5'W |   |
|   | Hummingbird Mint (Agastache) |   | Sun • Perennial • Spring to Fall • 2-4'H x 2-3'W |   |
|   | Hummingbird sage (Salvia spathacea) |   | Half sun • Groundcover to perennial • Spring • 3-4'H x 3-5'W • Native |   |
|   | Hummingbird Shrub (Hamelia patens) |   | Sun • Shrub • Spring to Fall • 3-6'H x 4-6'W |   |
|   | Jerusalem sage (Phlomis fruticosa) |   | Sun • Perennial/Shrub • Spring to Fall • 3-4'H x 3-5'W |   |
|   | Lion's tail (Leonotis leonurus) |   | Sun • Perennial/Shrub • Spring to Fall • 3-4'H x 3-5'W |   |
|   | Mexican Bird of Paradise (Caesalpinia) |   | Sun • Shrub • Sumer to Fall • 4-5'H x 4-5'W |   |
|   | Monkeyflowers (Mimulus) |   | Sun • Perennial • Winter to Spring • 3-4'H x 3-5'W • Native Penstemon |   |
|   | Red Monardella (Monardella macrantha) |   | Half sun to sun • Perennial • Spring to Summer • 3-4'H x 3-5'W • Native |   |
|   | Shrimp Plant (Justicia) |   | Half sun • Perennial • Spring to Fall • 3-4'H x 3-5'W |   |
|   | Snapdragon (Antirrhinum) |   | Sun • Annual • Winter to Spring • 3-4'H x 3-5'W |   |
|   | Starcluster Pentas (Pentas lanceolata) |   | Sun • Perennial • Almost year-round • 2-4'H x 2-3'W |   |
|   | Western Redbud (Cercis occidentalis) |   | Sun • Shrub/Tree • Spring • 6-12'H x 6-12'W • Native |   |
|   |   |   |   |   |